The mayor has been kidnapped! It's all due to a villain who calls himself "The Game Master." He's holding him captive, but if you can solve his board game and video game puzzles he promises to let him go.
The newest escape room at CluedIn Escape Rooms is a different take on escape games than our previous game The Asylum.
The Game Master is a heavily themed room, with all the puzzles based around board or video games. But don't worry, you don't have to know how to play the games to solve the puzzles. The Game Master plays by his own rules.
The Game Master is designed to be played by 8 people. We recommend bringing as close to the max as possible. He's packed the room with a lot of puzzles, so you'll need as much help as possible to escape in an hour.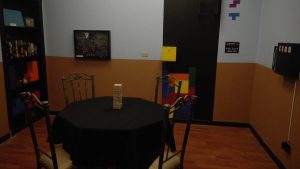 The Game Master likes to watch, so you'll be in the room yourself while he monitors your process from his lair. You still get to ask for hints, and if you enter the cheat code you get infinite hints with no penalty. (You can find the cheat code in the room, he's not very subtle.)
You'll find some of your favorite old and new games in the room, as well as some you haven't heard before. We don't want to ruin the surprise, but you'll see much more than we show here.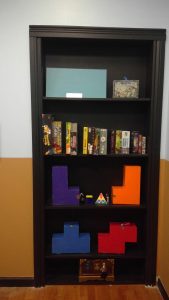 We want to give a special thanks to http://mandybarrettdesign.com/ for helping with the room design and http://tpkgamingstore.com/ for providing us with some game supplies.