CluedIn is  located 20 minutes west of Chicago in Glen Ellyn Illinois. Our Escape Rooms feature immersive stories and themes to entertain and challenge you and your friends.
Ever want to be in a real life video game, or star in your own movie or book? In an escape room you are the main characters. You'll battle against the room's devious puzzles as part of the story. Escape rooms are the newest form of interactive entertainment.
Escape Rooms are a live action game for groups of up to 8 people. When you enter the escape room you will be surrounded by a variety of puzzles, riddles, and games. You'll then have and hour to solve them in a particular order to "escape" from the room. Escape rooms are a great alternative to a night out, or a great way to start your night! Escape rooms also make great group and team building activity.
CONTACT US for more information.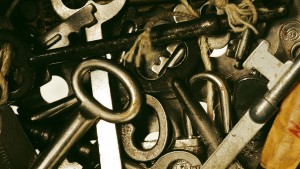 When you visit CluedIn Escape Rooms in Glen Ellyn you'll be treated to an unique experience, created by someone with a passion for the escape room genre. We'll be offering a variety of themes for your group to enjoy. From the psychological thriller of "The Asylum" to the whimsical "Game Master." Our games are perfect for any level of experience.
When you and your friends enter the escape room, you'll have to use your wits and teamwork to solve the puzzles, riddles, and games towards a common goal. Each challenge you solve in the escape room will unlock the next step, further the story, and put you one step closer to your goal. We never lock you in, so there will always be an open door, but leave too.

---
ESCAPE ROOM FAQS
Q: How much are the games, and how long do they last?
A: Prices vary. Monday through Thursday games start at $25.50* a person, Friday through Sunday $29.50* a person.  (*price is after taxes and fees, and may vary slightly)
Q: Will we be playing with strangers?
A: All our games are private during the pandemic. Previously we offered both private and public games, but for our customer's safety only private games are available now (at no additional charge).
Q: Are we really locked in?
A: Yes and no. Each room will have one unlocked door. You can leave through this door for an emergency, but you only win if you can solve all the puzzles and fulfill the games win condition.
Q: When should I arrive for my game? Do I need to bring anything?
A: We recommend arriving at least 5 minutes prior to your game, to use the restroom and sign a waiver. You can sign the waiver here beforehand to save some time.  Games will start at the exact starting time and once the door is closed, no one can enter.  Being late could cause you to miss your game.  No refunds are given for late arrivals.
Q: How many people can play?
A: Each game has a different number of players.
Our Game Master game needs a minimum of 2 players, and a max of 8. Up to 10 can play if you call us first. 
Our Asylum game needs a minimum of 2 players and a max of 6.
Our Double Agent game needs a minimum of 2 players to a max of 8.
Keep in mind that the more players you have, the more brainpower you have, thus the more chance you have of escaping.
Q: What are you doing to keep players safe from Covid-19?
A: Until further notice, all games will be private games, no additional cost.
Customers will be required to wear masks while they are in the common area, or when they are with our employees.
Hand sanitizer is available, and we request you wash your hands before you play.
All common areas, props, and game surfaces will be sanitized between games.
Our games are spaced out to limit crowds in our lobby. Please arrive at the time you are scheduled to avoid other groups.
We have two waiting areas to encourage social distancing.
You will be asked to answer a short questionnaire when you book, to ensure the safety of our staff and customers.
Not feeling well? We'll be happy to reschedule your time, no penalty.
We will be removing the props and signs for victory pictures. But we still encourage smiling faces!
We will be replacing high fives after you win with jazz hands and cheering.
Q: What if I we want to bring more players than the game holds?
A: Give us a call! We can arrange for some of our games to fit more than the max suggested.
Q: What if we don't escape?
A: Don't worry, we'll come get you.
Q: What do we get if we do escape?
A: Bragging rights! Plus we'll take your picture for our escapee page.
Q: Can I change my date or time after I have booked in the system?
A:  Yes. We can change it, but only to an available time on an available date.
Q: Can I cancel my booking?
A:  Any booking cancelled within 24 hours of your game will not be refunded. If you need to cancel or change a game outside of the 24 hour window please give us a call. 
Q: What is the age limit?
A:  The rooms are built for adults, though we find that players 10 and up accompanied by an adult do well. Players must be 14 years old or older to play by themselves. However, Guests under 16 must have a parent/legal guardian sign their waiver. Guests under 14 must be accompanied by an Adult 18 years old or older.
Q: How long is each game?
A: Each game is designed for one hour.  There is a short introduction and pictures will be taken after. Plan to stay for a total of an hour and 15 minutes.
Q: This sounds like the perfect thing to have a few drinks before. Is that a good idea?
A: You'll want to have your wits about you. Since players are responsible for any intentional damage to the room, make sure no one gets angry when they drink.
Q: What can we bring in with us?
A: No food or drink may be brought in. You cannot use cell phones, keys, pens, or similar items while in the room, and the game will be stopped if any of these items are used. There are places to place your belongings in each game.