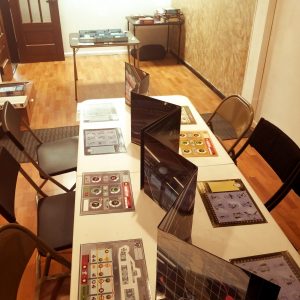 Come play games before or after your escape room experience, or any time during our business hours.
While we continue design work on our 3rd escape room game, we turned one of our unfinished rooms into a gaming space*. We've provided some games, or you can bring your own. Some, like the one pictured above, are perfect for groups of 8 people and last 30-45 minutes.
The room is open to the public, and it's free to play board games. You can also use this space for your work party, team building, birthday party, or outing. You can reserve the space for a private function for a small fee. Please contact us at 331-481-9535 if you would like to use the room for a private function.
*The gaming space is in an unfinished room, so please pardon the unpainted walls and imperfect flooring. We may close early, open late on some days if there isn't an escape game. So call ahead if you are coming in when not playing an escape game.